Local dedicated truck driving jobs
Driving opportunities throughout the Midwest and South
Midwest Logistics Systems (MLS) has local dedicated driving jobs for both inexperienced and experienced drivers. If you have a Class A CDL and are looking for a predictable schedule, consistent loads and frequent home time, explore what we have to offer.
Find a driving job
Daily home time
Out-and-back routes
Consistent schedules
Monday through Friday work schedules with occasional Saturdays
No-touch freight
Mostly drop and hook
Predictable paychecks
Drivers average $1,000-$1,250 per week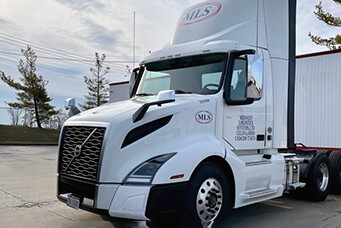 Driver benefits
Mostly Volvo tractor fleet.
Leading benefits package, including health, vision and dental insurance, a 401(k) with company match, paid time off and more.
Ten paid holidays.
Small company with a family-like work culture.
Bonuses based on driving performance and safety.
Access to 30 facilities across 11 states in the Midwest and South.
Driver qualifications:
Possess a valid Class A Commercial Driver's License (CDL).
Live within the location requirements of the job being applied to.
Search for driving opportunities near you.